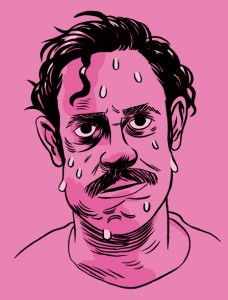 I'm Jules Bentley, a New Orleans writer. My work, much of it grounded in anti-capitalist analysis, has appeared in print in Slingshot, The Gambit, Antigravity– all of which I've written cover stories for– Vice Magazine, and The Raging Pelican.
I have a book-review column in the Brooklyn Paper, "February Houses," where I review the output of Brooklyn's independent publishing houses.
I've also been in many online publications, including Jezebel, Plenitude, Classical Magazine, and the pro wrestling journalism site Pro Wrestling Torch. Nationaldayofhacking.info, my website mocking the "hackathon" fad, was tweeted by Wikileaks to its over 1,000,000 followers.
In September of last year, I presented a paper on the novels of Anna Kavan at the Anna Kavan Symposium in London.
You can stay apprised of whatever latest drippings I've shaken loose from the tip of my pen over at my website, julesbentley.com, or follow the existentially punishing picaresque that is my Twitter.